//
MOTORIZED OR FIXED RACKS
Durable racks with or without the use of a ladder.
// ABOVE THE COMPETITION
Store with confidence with industry leading weight capacity.
// OUT OF SIGHT, OUT OF MIND
Store rarely used items up high and out of the way.
CONSULTATION
IT'S TIME TO GET ORGANIZED.
CONSULTATION
IT'S TIME TO GET ORGANIZED.


GARAGE OVERHEAD STORAGE IN ATLANTA
Overhead storage allows you to use space in your garage that has been nothing but useless previously. Now with the most reliable overhead garage storage in Atlanta, you can utilize all extra ceiling and wall space.
//
LIFETIME WARRANTY
We are so confident in our product that we back it up with a lifetime warranty.
//
UTILIZE OVERHEAD SPACE
Overhead storage keeps everything off the floor so that you can do whatever you need without the extra obstacles.


// EASY ACCESS
The Gorgeous Garage system makes it easy to access any long-term storage items.

SAFETY LIP
2" lip securely holds all of your storage in its place
CUSTOMIZABLE
Racks can be combined for greater storage capacity
MOTORIZED OPTION
Skip the ladder and load your racks from the ground level
PROFESSIONAL INSTALL
Authorized dealers ensure a proper installation
// EFFICIENT MOTORIZED SYSTEM
Motorized overhead lifts make for a smart and efficient garage storage solution. Using four Bluetooth motors, our overhead racks are easily lowered and raised for easy access utilize. A user-friendly app on your smartphone controls your storage, meaning you don't have to worry about anyone fiddling with a control panel in the garage.
With installation taking just a couple hours, you can start storing holiday decorations, camping supplies or any bulky items safely above your head. Add to your organization plan with the garage storage lift Atlanta residents trust.
• Made in the United States
• Controlled with your smartphone
• 350 lbs storage capacity
• Lifetime warranty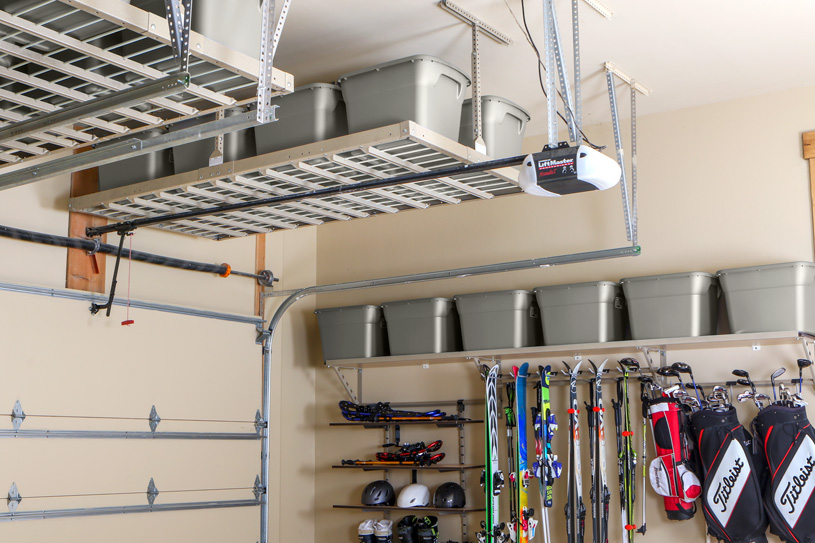 GARAGE OVERHEAD STORAGE FEATURES
Our garage overhead storage in Atlanta is one of the strongest systems available. No need to worry because we warranty our garage ceiling racks for life. This rack provides great out of the way storage.
2 inch lip:
No need to worry about items shifting or falling. Our racks are built with a 2 inch steel lip around the entire perimeter to ensure the safety or your items.
Long-Term Storage Items: Gorgeous Garage overhead storage in Atlanta has been used in several homes, commercial building, and offices to help place items out of the way but easily accessible.
Call us today to get the best overhead garage storage Atlanta has to offer!
FREE ESTIMATE
// TRUSTED BY ATLANTA HOMEOWNERS

We were so impressed with Doug and his staff. They gave us wonderful  ideas and were prompt and professional. They did an ex… Read more
GARAGE OVERHEAD STORAGE HIGHLIGHTS
High Weight Capacity:
Our Racks have a higher weight capacity because they have 4 joint mounts compared to 2. The 4 joints distribute the total weight every 4 feet. The 4x8 ceiling racks can be placed together to create a continuous platform unlike anything on the market. We have the strongest garage overhead storage Atlanta offers
.
Easily Integrated:
Overhead storage racks can be easily integrated with other products, such as garage shelving. If you're ready to transform your garage into the ultimate in efficient organization, give Garage Solutions Atlanta a call today
.
// AS SEEN ON
Let us help you take your garage to the next level. Our solutions have been featured on a variety of home improvement shows and in publications. Contact us for a free consultation today.

It's more than storage.
It's your life.
OVERHEAD SOLUTIONS
Bluetooth motors can raise and lower the platform using your smartphone
.
Wall mounted racks can hold up to 1,000 pounds per rack.
Each 8' rack can be combined with more racks to form even larger platforms.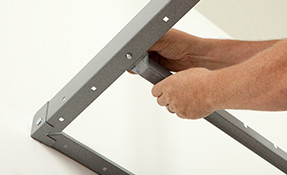 Made from industrial grade steel, these racks can handle anything.
Get your bikes and other accessories off the floor with Bluetooth motors.
Overhead racks come in Granite Gray and Desert Stone to match your Monkey Bars Shelving System.