// GARAGE STORAGE SIMPLIFIED
Marietta has never had it easier.
CONSULTATION
IT'S TIME TO GET ORGANIZED.
CONSULTATION
IT'S TIME TO GET ORGANIZED.
GARAGE STORAGE MARIETTA FAMILIES ADORE
Is your garage in need of an extreme makeover? Don't let your messy garage take over your life and keep you from living the way you want to. Let our professionals help you find the best garage storage Marietta can offer.
WORKING FOR YOU
We can help you find the storage solutions that are right for you. We will assess the space you have and help you decide which solutions will work in your garage and which ones you will benefit from the most for your garage storage in Marietta.
Space:
We help you gain space by giving everything a place. We do this by using your wall space to get everything off the floor.
Accessible:
We know that your life can be busy and you don't have a lot of time to be searching around for things you need. By using our products you will have easy access to your items.
Easy Maintenance:
Gorgeous Garage makes your garage easier to clean and maintain organization.
// TRUSTED BY ATLANTA HOMEOWNERS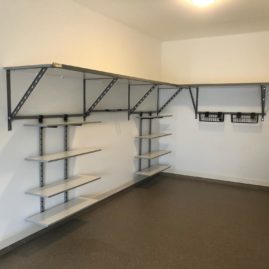 I had a great experience. The crew was awesome; they were on time, professional, courteous, and timely in doing their job. Th… Read more
MARIETTA GARAGE STORAGE
Garage Shelving:
If you don'
t have a lot of space, organizing all of your items on our garage shelving can help you save a lot of room and money.
Garage Cabinets:
Certain items in your garage need to be stored where you can easily find them, but little fingers can't.
Overhead Garage Storage:
Store totes and other items above your head, adding to the garage storage Marietta homeowners love.
Garage Flooring:
Our flooring will give your floor a beautiful, sleek, and smooth shine. It is also strong, waterproof, and very simple to clean.

FREE ESTIMATE