//
GARAGE STORAGE SIMPLIFIED
Kennesaw has never had it easier.
CONSULTATION
IT'S TIME TO GET ORGANIZED.
CONSULTATION
IT'S TIME TO GET ORGANIZED.
GARAGE STORAGE KENNESAW HOMEOWNERS TRUST
Disorganization and clutter is one of the major causes of stress in Americans; another is money. When you combine the two problems, you can find yourself living in a very stressful environment. You don't have to succumb to that stress, though. With help from the experts at Garage Solutions Atlanta, you can make the most of the space you have in your garage and get the best garage storage Kennesaw offers.
GARAGE STORAGE BENEFITS
Is your garage looking more like a disaster area than a storage space? Let us help with our wide variety of effective storage solutions. Whether you are looking for garage cabinets, shelving, overhead storage, or flooring, we have what you need to help you avoid the stress and cost of unnecessary clutter, adding to the best garage storage Kennesaw homeowners can get.
Utilize Space:
By getting everything off the floor using your wall space we are able to create more space in your garage.
Custom:
We know that no one has the same storage needs. That is why we custom build our products on site so that it fits your needs.
Easy Maintenance:
The Gorgeous Garage system provides a spot for all of your items and gets everything off the floor so that you can easily maintain an organized garage.
// TRUSTED BY ATLANTA HOMEOWNERS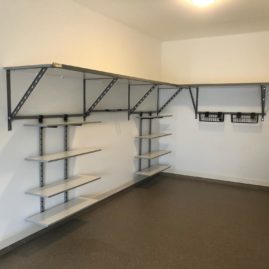 I had a great experience. The crew was awesome; they were on time, professional, courteous, and timely in doing their job. Th… Read more
GARAGE SOLUTIONS FOR YOU
Garage Shelving:
Every four foot section of garage shelving can hold up to 1,000 pounds, for garage storage in Roswell.
Garage Cabinets:
These garage cabinets can be customized to your tastes and style.
Overhead Garage Storage:
Our overhead storage is secured to your ceiling with 40 bolts and is the best choice for those heavy totes and boxes.
Garage Flooring:
Fix those cracks and stains in your garage flooring with our polyurea floor coating.
FREE ESTIMATE