// SHELVING AND RACKS
Get a one of a kind garage with top of the line products.
// WE'VE GOT OPTIONS
Custom designs to fit any garage and any hobby.
// ROOM TO SPARE
Get garage clutter off the ground and out of the way.
CONSULTATION
IT'S TIME TO GET ORGANIZED.
CONSULTATION
IT'S TIME TO GET ORGANIZED.
VERSATILE GARAGE SHELVING IN ATLANTA
The Monkey Bars garage shelving system is the most versatile
garage organization
shelving system in the Atlanta market today. Get everything off the floor and into a totally customizable shelving solution. See why we offer the best garage shelving in Atlanta.
//
LIFETIME WARRANTY
We believe in our product so much that we back it
up with a lifetime warranty.
//
ADJUSTABLE & EXPANDABLE
We know that life changes everyday and that your storage needs will change with it. That's why we have made our product adjustable to fit your life however it changes.
//
FREE ORGANIZATION SERVICES
Our professionals will come to your home and give you tips on how to organize your garage and stay organized.

STRONG
Holds 1000lbs every four feet of shelving
TWO COLOR OPTIONS

Designed to match any home and style
OFF THE FLOOR

Get everything off of your floor for easy cleaning
COLOR COORDINATED
Designer Series finishes match your garage cabinets
MONKEY BARS SHELVING AND ACCESSORIES
Because every garage has different items to store, Monkey Bar shelving was designed with a wide range of accessories and configurations.
Layering Your Storage:
Our patented bar and hook system is designed to maximize your available storage space by layering your storage items. You can hang things in front and back of the Monkey Bar to store even more in a small amount of space.
Custom Accessories:
If you and your family have a wide variety of interests and activities, you've come to the right place. We have storage accessories to store your various things. We have sports ball bags, yard tool racks, bike racks, kayak racks and even more. With such variety, there are few things that can't be stored.
FREE ESTIMATE
// TRUSTED BY ATLANTA HOMEOWNERS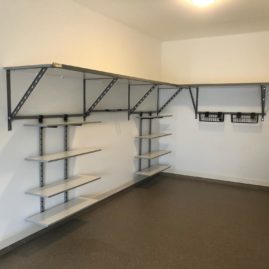 I had a great experience. The crew was awesome; they were on time, professional, courteous, and timely in doing their job. Th… Read more
TYPICAL INSTALLATIONS
A typical installation for garage shelving in Atlanta happens at about 6 feet high. That way you can hang bikes and other garage storage accessories below while still reaching your items on the shelf without a ladder
.
THE LIST OF BENEFITS CONTINUES
Drop-down Shelving: Drop down shelves can quickly be moved to other locations. Simply remove the Monkey Bar and slide it right into any other shelving system location.
Inverted Garage Shelving:
A great way to make use of any space above garage
windows that doesn't normally get used.
Hooks:
Instantly hang almost anything off the ground with our hooks for garage
shelving in Atlanta. Find a place for all of your items.
// AS SEEN ON

If you're ready to transform your garage into the ultimate in efficient organization, garage shelving in Atlanta is a great way to started!

It's more than storage.
It's your life.
IT ALL STARTS WITH THE SHELF
//
24" D-10 GARAGE SHELVING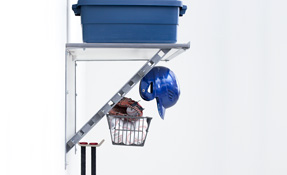 24" deep shelf, 10 adjustable bar positions.
//
16" D-6 GARAGE SHELVING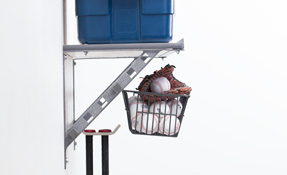 16" deep shelf, 6 adjustable bar positions.
//
24" D-6 GARAGE SHELVING
24" deep shelf, 6 adjustable bar positions.
32" deep shelf, 10 adjustable bar positions.
Great for over windows and doors.
Great for over garage doors.
Easily and securely snaps in and out of the brackets. Available in 35" and 51" lengths.
Hooks snap on and off bars and hang almost anything off the ground.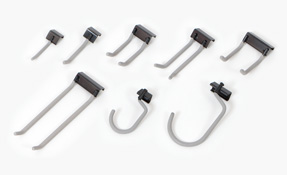 Eight
hook types to neatly store the items in your garage
.
//
ADJUSTABLE WALL SHELVES
Shelves 13" deep and 36" or 44" long. Can mount directly to a wall or suspend from a Monkey Bar.
Sturdy when you need it, out of the way when you don't.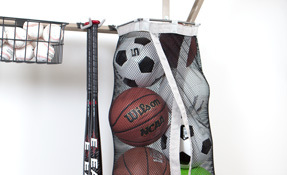 Easy organization for sports fans in your family.
Great for helmets, sports gear, exercise equipment and more.
Perfect for holding garden hoses, air hoses, and extension cords.
Stores golf balls, baseballs, hand tools and more.