// CLUTTER-FREE CABINETS
Keep clutter covered and out of the way with our line of cabinets.

// CABINETRY FOR EVERY SPACE
Colors, sizes, and styles to match every garage.
// BUILT TO LAST
Our products are made with the highest quality components.
CONSULTATION
IT'S TIME TO GET ORGANIZED.
CONSULTATION
IT'S TIME TO GET ORGANIZED.
GARAGE CABINETS ATLANTA - MODERN DESIGN & STYLES
There is beauty in organization. Our garage cabinets in Atlanta bring a clean, professional look to any space. These durable, functional and stylish cabinets will add value to your home.
//
PRODUCT FEATURES
Gorgeous Garage's line of Storage Cabinets are contemporary styled cabinets that are available in two distinct quality levels and price points. We can give you the best garage cabinets Atlanta has to offer.
//
SIGNATURE GARAGE CABINETS

These are the top of the line version of our cabinets that have multiple added features.



// CLASSIC GARAGE CABINETS
The Classic cabinets are a mid-level cabinet at a lower price point in limited sizes and configurations.

//
PREMIUM WARRANTY
No worries with a 7-year or
limited life time warranty


//
SOLID CONSTRUCTION
Durable melamine with a heat fused laminated finish
GARAGE CABINET FEATURES
Custom Design: Mix and match various heights, widths and depths of cabinets to create your perfect garage. We can design around any and all objects.
Lockable: Some of our cabinets feature optional locks to keep dangerous chemicals or items away from little fingers.
Resale Value: Buyers expectations include garage cabinets and the appearance of a clean and functional garage.
FREE ESTIMATE
SIGNATURESERIES
CONSTRUCTION
• 1" thick melamine tops, bottoms, & fully adjustable shelves
• 3/4" thick melamine on doors, drawer fronts, & side panels
• Full cabinet backs with dado box construction
• Wall mounted garage cabinet system with optional legs
• 12", 16", 20", and 24" cabinet depths
• Cabinet heights up to 91" & widths up to 48"

HARDWARE
• 6-Way adjustable premium soft close hinges
• Full extension drawer glides
• Optional soft close full extension drawer glides
OTHER
BASE CABINET STYLES
FREE ESTIMATE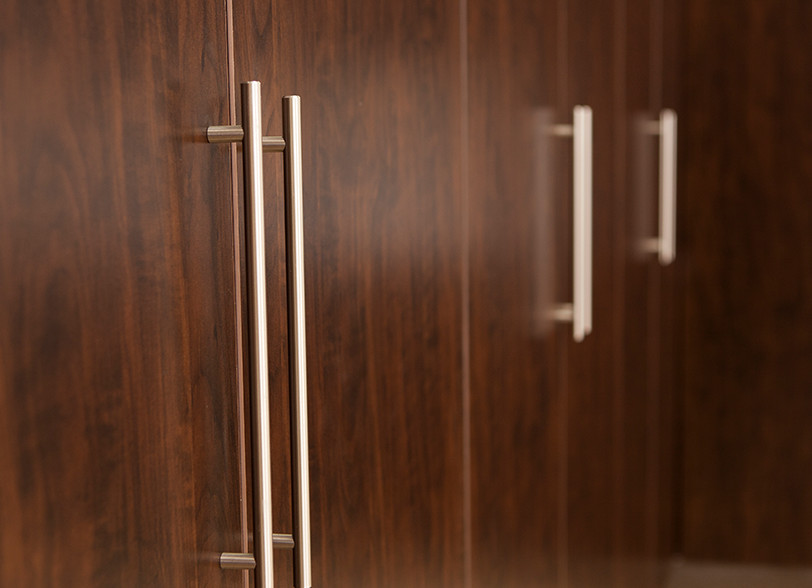 SIGNATUREELITE DOORS & FRONTS
• 3mm thick contoured edge-banding on doors and drawer fronts
CLASSICSERIES
CONSTRUCTION
• 3/4" thick double sided melamine
• Wall mounted with optional legs
• Backless garage storage cabinet design
• Sizes up to 83" tall, 36" wide, 16" and 24" depths
• 0.5mm thick finish matched edge banding on all components
• Most shelves are fully adjustable

HARDWARE
• 3-way adjustable hinges
• Full extension drawer glides
• Variety of available countertop & handle optio
OTHER
FREE ESTIMATE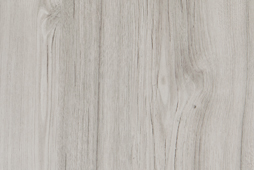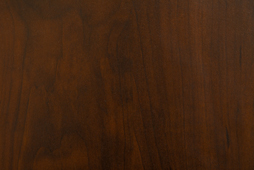 *Featuring black edge-banding
*Featuring black edge-banding
*Featuring black edge-banding

// TRUSTED BY ATLANTA HOMEOWNERS

We were so impressed with Doug and his staff. They gave us wonderful  ideas and were prompt and professional. They did an ex… Read more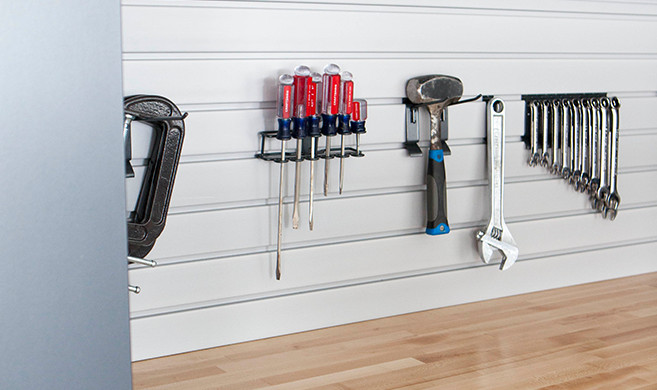 //
SLATWALL SOLUTIONS
Workbenches can really have no use if they serve as a cluttered space. We want to help you turn your workbench back into a project station.
Let's get your tools out of the way and on the wall. Our solution to your cluttered mess to keep your space organized is our extruded PVC slatwall. Have all your fingertips organized and at your finger tips.
• Water and moisture resistant



• Scratch resistant extruded cellular PVC with color all the way through






CABINET OPTIONS
Wall Mounted Garage Cabinets:
There are numerous advantages of wall mounted garage cabinets. They make use of mid wall space, are protected from moisture and allow the garage floor to be easily cleaned. They also eliminate hiding spots for unwanted pests. Wall mounted garage cabinets work perfectly when installed under garage overhead storage or can stand alone on a different wall altogether
.
GARAGE CABINET OPTIONS
Drop-down Shelving: Our unique product line is constructed with a variety of finish options.
Durable and Strong: Our cabinets are so strong that they can hold up to 100lbs per shelf.
If you're looking for garage cabinets in Atlanta, look no further than Garage Solutions Atlanta. Whether you're creating an entire work station or simply in need of a convenient, wall mounted cabinet, we've got it
.
Contact Us to get the same product used in many renovations on well known TV shows like HGTV's Property Brothers.
If you're ready to transform your garage into the ultimate in efficient organization, garage cabinets in Atlanta is a great way to started!