//
GARAGE STORAGE SIMPLIFIED
Duluth has never had it easier.
CONSULTATION
IT'S TIME TO GET ORGANIZED.
CONSULTATION
IT'S TIME TO GET ORGANIZED.
DULUTH GARAGE STORAGE & ORGANIZATION SOLUTIONS
You spend so much time making sure your home looks beautiful, why not put that same care and consideration into your garage? Garage Solutions Atlanta is here to help. We provide you with superior products that can help you gain control of your clutter and make your garage just as beautiful as the rest of your home. Get the best garage storage Duluth can offer today.
GARAGE STORAGE BENEFITS
If you live in Duluth, you have probably spent countless hours and weekends turning your home into a location that is warm and inviting. However, your garage could be hurting the look of your home. When left alone to become a disorganized mess, it can be a eye sore. Get started on your garage storage in Duluth.
Wall Space:
We create more space for you by using the wall space you already have to get everything off the floor.
Versatile:
No ones life stays the same, everyone is constantly going through change, that is why we made our product versatile to change with your life.
Easy Maintenance:
With everything off the floor and in its own spot, maintaining garage organization becomes easy.
// TRUSTED BY ATLANTA HOMEOWNERS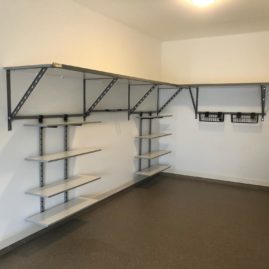 I had a great experience. The crew was awesome; they were on time, professional, courteous, and timely in doing their job. Th… Read more
GARAGE STORAGE IN DULUTH
Garage Shelving:
This garage shelving system can hold 1,000 pounds every 4 feet.
Garage Cabinets:
These cabinets are stylish, adding to that great garage storage Duluth offers.
Overhead Garage Storage:
Strong is an overhead garage storage system that was originally designed for commercial use. However, it works just as well in residential settings.
Garage Flooring:
Try our epoxy flooring; it will get rid of all those imperfections in your floor.
FREE ESTIMATE