// GARAGE STORAGE SIMPLIFIED
Cumming has never had it easier.
CONSULTATION
IT'S TIME TO GET ORGANIZED.
CONSULTATION
IT'S TIME TO GET ORGANIZED.
CUMMING GARAGE STORAGE & ORGANIZATION SOLUTIONS
Sometimes the garage gets neglected. Storage gets strewn across the floor, unused furniture may find it's home there, and all in all, the garage becomes a disaster. If this sounds familiar, it may be time to give us a call and take hold of your garage once more. We offer the best garage storage Cumming can offer.
GARAGE STORAGE PROS
If you live in Cumming, your interior design efforts may have been focused on the kitchen, bedrooms, bathrooms, and living spaces in your home. However, if the garage is neglected, then the total look of your garage may be hurting. You'll need the best solutions provided by us, giving you the only garage storage in Cumming that you can trust.
Utilization:
We make our utilization our top priority. We know that if we utilize the wall space and get everything off the floor, your garage will hold a lot more.
Low Maintenance:
Everyone needs a shelf that they can get installed and not worry about any maintenance. Our Monkey Bars shelves come with a lifetime guarantee so the last thing you'll need to do is worry about your garage storage in Cumming.
Strong & Secure:
Our shelves can hold up to 1000 lbs every 4 feet! You won't need to worry about your storage crashing down with our shelves.
// TRUSTED BY ATLANTA HOMEOWNERS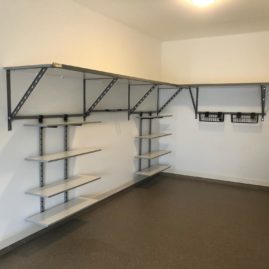 I had a great experience. The crew was awesome; they were on time, professional, courteous, and timely in doing their job. Th… Read more
GARAGE STORAGE IN CUMMING
Garage Shelving:
Like stated above, we have the strongest shelves on the market. You don't need to worry about your storage falling.
Garage Cabinets:
If you prefer your storage to be safely hidden behind closed doors, then our garage cabinets are for you.
Overhead Garage Storage:
Most people forget about the space above their heads. Utilize this wasted ceiling space with our overhead storage racks.
Garage Flooring:
Epoxy flooring is the best solution for your garage floor. It protects the cement from cracks and oil spills.
FREE ESTIMATE