// GARAGE MAKEOVERS IN ATLANTA
Create a durable and gorgeous garage.
CONSULTATION
IT'S TIME TO GET ORGANIZED.
CONSULTATION
IT'S TIME TO GET ORGANIZED.
ANY STYLE FOR YOUR GARAGE MAKEOVER IN
ATLANTA
Make your garage stand out from the rest with our coordinated garage storage products. With our help, you can turn your garage into a true extension of your home. Typically, the garage is the first space you see when you come home and the last space you see when you leave. We can make both experiences more relaxing. Find out what our industry-leading garage makeovers can do for you.
//

sHELVING & OVERHEAD
Our garage shelves and overhead racks come in Granite Gray and Desert Stone. Both of these finishes are powder-coated to the product to provide extra durability.

//

ACCESSORIES & hARDWARE
In order to match our shelves and slat wall, all hooks and hardware come in a Graphite Pearl Finish. Our cabinet hardware is also colored to match.

//

TAILOR-MADE CABINETS
Create a custom look for your garage with our tailored garage cabinets. Choose from a variety of color and configuration options to create your own cabinet design.

//

DURABLE FLOORING
Upgrade your garage floor with one of our durable and beautiful garage flooring options. We offer 10 custom designed floor finishes as well as a variety of tile options.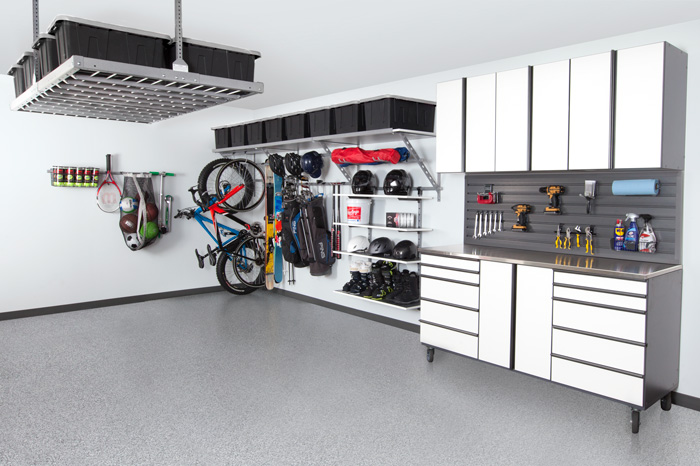 WHY IS THIS IMPORTANT?
In order to create a truly functional and organized space, we have learned that it takes a variety of cohesive storage solutions. When products work together, it's much easier to create a space that is easy to maintain.
We want our clients to be completely satisfied with their garage makeover, so we didn't stop at functional products. We create beautiful garages! With our coordinated products, it's possible to give you a garage that looks like something from the pages of a magazine.
Everything that we offer is priced competitively to help homeowners create the garage they have always wanted.
HOW CAN WE DO THIS?
We are Atlanta's exclusive Gorgeous Garage dealer. As an exclusive and authorized dealer, we can bring you the products that will transform your garage with grace and strength. Unlike big-box stores, our storage solutions are tailored to your garage and lifestyle.
To see more ideas, visit our line card gallery.
FREE ESTIMATE