// GARAGE STORAGE SIMPLIFIED
Alpharetta has never had it easier.
CONSULTATION
IT'S TIME TO GET ORGANIZED.
CONSULTATION
IT'S TIME TO GET ORGANIZED.
GARAGE STORAGE ALPHARETTA SOLUTIONS
If you are running out of room for your collection of gear, or your mountain bikes and surfboards are taking up so much room your car has to sit outside on the street instead of in your garage, you need help. Luckily, we provide the best garage storage Alpharetta can offer.
GARAGE STORAGE BENEFITS
We can provide you with a number of garage storage solutions that will not only fit in your budget, but will allow you to take advantage of an organized and well-kept garage. With our garage storage in Alpharetta, you don't have to sift through boxes to find those running shoes and your car can be placed where it should be- in your garage.
Wall Space:
Using your wall space we get everything off the floor to provide you with more space, adding to the best garage storage Alpharetta can offer.
Versatile:
Life changes everyday and along with that so will your storage needs. This is why we made our product versatile to change along with you.
Easy Maintenance:
Keeping up your garage organization has never been easier. When everything has its own place garage maintenance is much easier to handle.
// TRUSTED BY ATLANTA HOMEOWNERS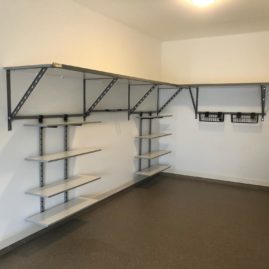 I had a great experience. The crew was awesome; they were on time, professional, courteous, and timely in doing their job. Th… Read more
GARAGE STORAGE OPTIONS
Garage Shelving:
Our shelving is strong. You don't have to worry about the garage shelving coming down under too much pressure.
Garage Cabinets:
Here you can store hobby supplies, power tools, and even those bottles of cleaners, without worrying about little fingers being able to get to them.
Garage Flooring:
Our epoxy floor coating will not only give your floor a beautiful shine, but will get rid of all those chips and cracks!
FREE ESTIMATE